Lighting is one of the essential elements of a design and feel of your home, and can influence how everything else looks – from the wall color to the decor to the flooring.
Whether you wish to improve the lighting for a specific area or design a whole-house lighting transformation, it's important to plan your lighting remodel and consider all the sources of light you'll need and the mood you want to create.
We believe that lighting is an integral part of any room's look, so we put together lighting ideas for different areas that are sure to make your space brighter and more appealing:
Living Room / Family Room
A successful lighting design incorporates layering light sources from a number of types of fixtures at different levels of the area, that can be used together or separately – a concept that is particularly important in the living/family room.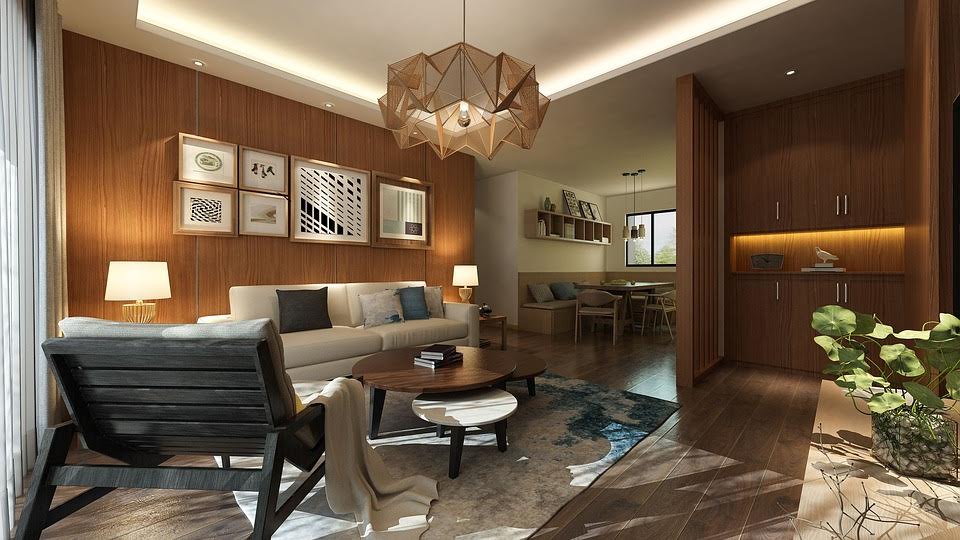 This is an area where people typically gather for longer time and engage in various activities, such as conversation, reading, watching TV, playing games, etc. Instead of recessed down lights, opt for lights that bounce off the ceiling for ambient lighting, which creates a sense of brightness in the room, and prevents the shadows or downward facing lights.
To help create ambient lighting, you can install track lighting that is directed toward the walls; soffit or valance lighting; or get a plug-in torchiere floor lamp with translucent upward facing globe.
Accent lighting in a living room may be used to focus on an architectural element, such as a fireplace or bookcase, or on a painting, sculpture or plant. Up lights placed on the floor may be used as accent lighting for a plant, while track lighting may be used as accent lighting for artwork. When lighting an art collection, the brightness and heat generated by a type of lighting must be considered; for some lighting designers, accent lighting for artwork is a particular area of expertise.
Task lighting for a living room can be created by table or floor lamps, placed near the reading chair, sofa or table.
In a large living room, you can introduce architectural lighting with a design that can look like this: a couple of valances on two opposite walls, mounted about a foot below ceiling height; a soffit installed at ceiling height above a fireplace or a piece of art, and a lamp placed next to a reading chair and maybe another one next to a sofa or table; a keypad could control all the lighting with preprogrammed 'entertaining,' 'reading,' 'all on' and 'all off' settings.
In a smaller living room, installing sculptural sconces or wall lights instead of having floor or table lamps will free up some valuable space. They are also a great way to add interest to a larger empty wall or frame the mirror or an art piece.
For increased energy efficiency and versatility, replace the wall switches with dimmers.
Bedroom
In your bedroom, you want to create the perfect mood with adequate light, and just like with your living room, the most effective design will incorporate layering the light.
The key is to keep in mind that lighting in this room needs to have elements of peaceful, relaxing atmosphere. To achieve this, opt for soft, pleasing ambient lighting that also provides bright spots as needed.
Depending on the style of your bedroom, you can get light fixtures in a vast array of size, style and price range, from traditional to modern to a mix of both. You may choose recessed lights, or wall sconces, installed high enough on the wall, for ambient lighting; a single flush-mount fixture or chandelier; or a ceiling fan that provides both light and climate control.
We love incorporating several lights of a lower wattage as opposed to one or two bright fixtures; softer light bulbs create a more pleasant and less glaring light in the room, and dimmer switches create more ambient lighting, which you can adjust based on your mood and activities.
You can layer your overhead lighting with table lamps on your nightstands, or install pendants or wall lights with swing arms over the tables. To highlight any artwork or photographs, consider adding accent lighting.
When designing bedroom lighting, make sure you include closets and master bathrooms.
Kitchens
Your kitchen requires careful consideration of task and ambient lighting, since this is the area where food preparation, cleanup, and lots of gatherings tend to take place. The focus is usually on the counters, island, and over the sink.
You can enhance the natural light coming from the kitchen window with a ceiling mounted or recessed fixture above the sink. Illuminate the countertop surfaces with under-cabinet lighting, rather than with an overhead light that tends to cast shadows of the people working at the counters.
A basic, traditional lighting design could consist of a central, ceiling-mounted fixture to provide ambient light; under-cabinet fixtures supplying task lighting to the counters; soffit lighting to provide task lighting above the sink; a pendant to create ambient lighting over the island. You can add a dimmer, and choose energy efficient light bulbs for improved lighting design.
For a medium and larger-sized kitchen, consider adding cove lighting along two opposite kitchen walls to provide ambient lighting that bounces light off the ceiling, and valance lighting above the sink and under-cabinet lighting to create task lighting.
Dining Rooms
In the dining room area, the main focus of lighting is the table. Fixtures installed directly above the table may provide both ambient and task lighting, and dimmers can provide flexibility in creating a relaxing atmosphere when entertaining.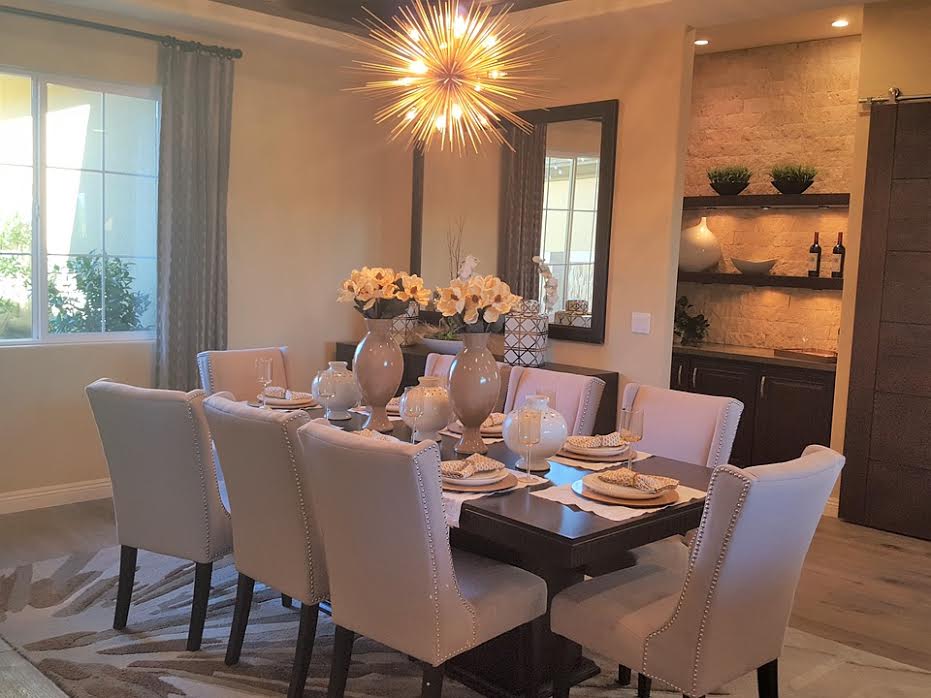 A basic, traditional lighting plan for this area includes a chandelier above the table, a pair of wall sconces, and a dimmer(s). A more complex lighting design can include cove lighting on two opposing walls and a dimmable chandelier over the table.
Also, since dining rooms often have decorative paint treatments or wallpapers, consider the wall treatment – darker wall color paint will reflect less light, so more lumens may be required in the room's light fixtures.
If your dining room has a French or sliding door, consider adding lights outside the doors, so that whoever is sitting at the dining table at night can have a focal point beyond their reflection in the glass doors.
Bathrooms
The focus of light in a bathroom should be on the person viewing oneself in a mirror – accomplished by lighting both sides of the mirror, rather than having a central ceiling-mounted fixture (as it casts shadows on a person standing in front of the mirror).
In small bathrooms, always opt for the wall-mounted placement rather than an overhead fixture.
An enhanced lighting design features three wall sconces, two on either side of the mirror, and one on an opposing wall (offset from mirror position).
When you design your lighting plan for your home, it's essential to take into consideration your needs, as well as the features and limitations of each area, to ensure you're choosing the right fixtures to fit both the size of your room and your decorating style.
At Denny's Electric service, as a full service residential electrical contractor, we pride ourselves on being committed to delivering not only quality workmanship and superior service, but also with info and resources necessary for you to make the best decision when it comes to your electrical needs.
Your search for a reliable and skilled residential electrician in southeastern Pennsylvania ends right here – contact Denny's Electric today to receive quality residential electrical services.