Outdoor lighting is important for many reasons – visual, practical, and to reflect and support your lifestyle.
There's a wide array of outdoor lighting options and designs – here are some different ideas and tips to explore that can make your space not just brighter, but also safer and more appealing:
As you plan your front yard lighting, consider having several layers of outdoor lighting. It creates visual interest, and you can accomplish this by lighting the entryway, the tree or bush in the middle of the yard and the mailbox in front of your property. It's good to have focal points, and since the entryway is often center stage, lighting it serves more than a safety purpose – it also provides a welcoming touch.
There's a trend in outdoor lighting design – the "moonlight effect" – that refers to a naturalistic look featuring light similar to that of a full moon, casting beautiful shadows and offering intense highlights.
There are many ways to achieve the moonlight effect, and a great one is to highlight trees. You can illuminate trees by a light mounted in the tree itself, at least 20' and preferably 30' up into it, casting the light in downward fashion. Placing the fixtures this high in the tree keeps them well out of the line of sight and people won't trample over them, as it allows the light to filter through branches and limbs, offering a magnificent and more natural moonlight effect.
Downlighting is great for outdoor seating, such as under benches and seating walls, to casts subtle lighting along pathways and patios (which also offers an element of safety for people walking through).
If you want a more dramatic lighting design, use uplighting – used in moderation, it's a great way to highlight architectural and landscaping features.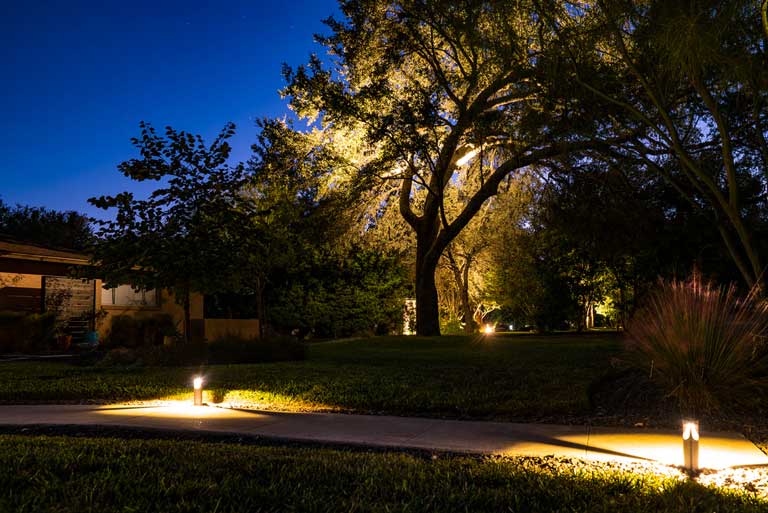 Whatever lighting design you choose, think about combining beauty and function. For instance, if you install lighting to plantings along a pathway, this will transform the look of too many lights strung alongside a walkway.
Also, opt for more than the standard types of fixtures, such as spots and floods, and introduce area lights, step lights, and bollards or post lights into your landscape. Decorative string lighting, or bistro lights, will provide cost-effective and fun illumination for outdoor entertaining.
Don't forget to consider timers – this is the 21st century, after all, so why not let technology work for you! A timer can bring the lighting display to life as the sun sets, shut down everything but security lighting at midnight.
Finally, something that every property owner should think of – enhanced safety and security, and landscape lighting plays an important safety role in any outdoor space. For your front door, install two wall-mounted light fixtures on each side of the entryway to provide a safe entrance at night. You can install trigger lights that detect motion to give you and anyone approaching a warning; choose to light only the front door area, or install a combination of lights that are triggered when someone approaches.
Overall, soft landscape lighting eliminates dark areas that might hide an intruder, exposing any movement on your property, while overly bright lights actually create unsafe pockets of deep shadow.
As far as the type of light source that lighting designers choose – it's certainly LED lights. They are less costly than they used to be, and now offer that warm light people love in incandescent bulbs, and they live a longer life – at least 40,000 hours, or about 18 years of nighttime service. And while LED fixtures are more expensive to install than incandescent, they are simpler to install since they use low-voltage wiring. A piece of advice: buy only fixtures with a 15-year warranty, which provides proof that the fixture's housing is designed to live as long as the LED bulbs inside.
Whether you wish to improve the lighting for your outdoor area or design a whole-house lighting transformation, it's important to plan your lighting remodel and consider all the sources of light you'll need and the mood you want to create.
At Denny's Electric Service, we provide full residential electrical services, and pride ourselves on being committed to delivering not only quality workmanship and superior service, but also with info and resources necessary for you to make the best decision when it comes to your electrical needs.
Your search for a reliable and skilled residential electrician in southeastern Pennsylvania ends right here – contact Denny's Electric Service today to receive quality residential electrical services: https://dennyselectricservice.com/