Lighting plays an important role in creating a healthy and safe home environment, and per Lighting Research Center, the overall goal for home lighting is that it's "comfortable, easily controlled and energy efficient." Also, you want your home lighting to be visually appealing, practical, and to reflect and support your lifestyle.
Since lighting technology is continuously evolving, there are more lighting options than ever before, from the efficiency and levels of longevity of a light bulb to the design of the fixtures and built-in lighting.
Here are some tips and ideas to explore when considering home renovation lighting options to make your space brighter and more appealing:
To start, think about questions like these: What do you wish to see and highlight in each room? What types of lighting do you prefer, and which ones do you definitely not want to see in your home?
A good lighting plan and concept for your home includes creating three layers of lighting – ambient, task and accent. Each type will meet a particular need, as one type of lighting cannot do it all.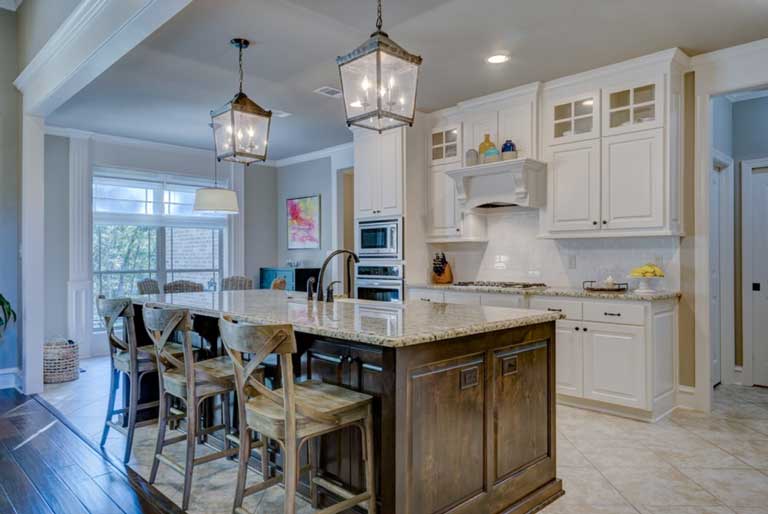 Ambient or general lighting is intended to create a uniform light level throughout the room. Typically, when you step into a room and turn on a switch, ambient lighting will provide overall illumination of the space, and you can have it in many forms, including: ceiling-mounted or recessed fixtures directing light downwards; wall sconces or floor-lamp torchieres; cove, soffit and valance lighting bouncing light off ceilings and walls.
Task lighting or targeted lighting will illuminate a specific area of a room, such as kitchen counter where food is prepared (with under-cabinet lighting); living room seating areas for reading (with a table lamp); home office desk surface (with a desk lamp), etc.
Accent lighting or highlighting is intended to draw attention to a particular object, such as a painting, sculpture, plant or bookcase, often using recessed or track lighting with adjustable fittings; this will allow light to illuminate even a small object.
When thinking about layering the light in any room, the first one to consider is typically the ambient lighting, then task and accent lighting – moving from general to specific.
The most important thing to think about is how you use a space, and what you do in specific rooms. If a room is heavily task-oriented, such as home offices, the focus may be on task lighting first; if your hallway or your sitting room display a lot of photos or art, the first focus may be the accent lighting.
As far as fixtures, there's one for every need and style in your home – from integrated architectural solutions that require contractors and tradesmen, to decorative lamps that you can simply place on a table or floor and plug in to the nearest outlet.
Architectural lighting is most often used as ambient lighting, and comes in three common types: cove, soffit and valance. All three are integrated into the structure of the room.
Cove lighting is located in a ledge, shelf or recess on a wall, the light bouncing toward the ceiling or upper wall; soffit lighting is located in a soffit or cornice near the ceiling, the light radiating downward; valance lighting is located in a wood, metal or glass valance mounted above a window or high on the wall, the light bouncing both upward and downward.
The technique of bouncing light off walls and ceilings, known as indirect lighting, is favored by many lighting professionals, since it minimizes shadows and glare.
Recessed lighting is installed above the ceiling, in an opening that is flush with the ceiling. It requires at least 6 inches of clearance above the ceiling, as well as insulation to ensure that condensation does not drip into the fixture. Recessed lighting can be used to provide ambient, task or accent lighting.
Track lighting is mounted or suspended from the ceiling; it consists of a linear housing with numerous heads with adjustable direction, and is often used for task or accent lighting.
Pendant lights are suspended from the ceiling, typically over a table or kitchen island and direct their light down. Pendants can provide ambient or task lighting and can enhance the decorative style of your room.
Finally, consider replacing an on-off switch with a dimmer – a relatively easy change that will provide not only energy efficiency, but will also create a totally different mood.
As far as the type of light source – make sure you choose LED lights. They are less costly than they used to be, they offer that warm light that people love in incandescent bulbs, and they have a longer life.
At Denny's Electric Service, we provide full residential electrical services, and proudly commit to delivering not only quality workmanship and superior service, but also educating and providing resources necessary, so you can make the best decision when it comes to your electrical needs.
Your search for a reliable and skilled residential electrician in southeastern Pennsylvania ends right here – contact Denny's Electric Service today and let us help you create perfect lighting for your home.