Curiosity and carefree playfulness are a natural aspect of childhood learning, but when it comes to electricity, it can be extremely dangerous.
The United States Consumer Product Safety Commission reports that every year around 31,000 home electrical fires happen, and almost 200 cases involve electrocution or electricity-related accidents.
At Denny's Electric, we are dedicated to not only providing quality electrical work for your home, but also to raising awareness and educating on how to reduce the number of childhood injuries from accidents related to electricity.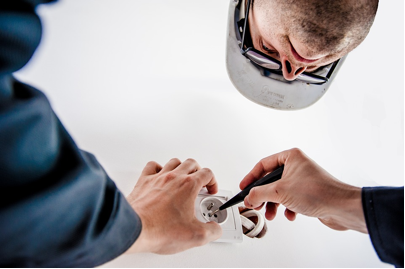 Home electrical safety is too important to ignore – here are some top safety tips you can use to protect your home and your family:
Secure Unused Wall Outlets
You can use plastic inserts; however, they can be pulled off and get stuck in the mouth. Consider using safety outlets into which foreign objects cannot be inserted. You can also block outlets with hard-to-move furniture.
You can also put electrical tape over unused plugholes on cords.
Secure Electrical Cords
Make sure all cords are out of the way; hide extension cords behind furniture. You can also use a hide-a-cord device, or replace or repair damaged electrical cords to keep your home safe.
Power cords should not be stapled into place or run under rugs as it poses a tripping hazard and can overheat. Also make sure furniture is not crushing cord insulation and damaging wires.
Check all power and extension cords regularly and look for signs of fraying and cracking. Damaged power cords are a serious electrical safety risk, as they are capable of causing fires and electrocution, and should be repaired or replaced immediately.
Never yank an electrical cord from the wall. When your child is old enough, teach him/her to safely pull from the plug if there's ever a need for them to do it – pulling on a cord can damage the appliance, the plug or the outlet.
Also, do not plug too many things into one outlet or extension cord – it could damage the electrical system or even cause a fire.
Secure Electrical Equipment
Put all electrical devices onto a shelf out of reach, or in cabinets. Store bathroom and kitchen electrical appliances such as hair dryer, coffee maker, toaster, etc. out of reach of children.
Keep electrical devices, appliances and fixtures away from anything with water – sinks, showers, bathtubs, plant pots, aquariums, to lower the risk of water and electricity coming into contact. Most electrical accidents around the house happen when people use electricity near water.
Unplug appliances that are not in use – this will save you power by reducing any phantom drain (the amount of energy the device consumes even when not actively in use), and more importantly protect them from overheating or power surges.
Plug only one heat-producing appliance into an outlet at a time, and have a qualified electrician check any hot outlets.
Use Correct Wattage
Verify that you're using the correct wattage in all your devices, appliances, and fixtures to prevent electrical problems. If a light fixture has no wattage listed, use 60-watt bulbs or less, and 25-watt bulbs for unmarked ceiling fixtures.
Get Your Home Inspected For Electrical Safety
To find out how safe your electrical system is, call your local fire department and ask for a fire safety inspection. They will help identify potential sources of electrical fires, and what changes need to be done to keep your home safe.
It's highly recommended to contact a licensed electrician to assist with replacing damaged electrical parts and fixtures and configuring other electrical problems.
At Denny's Electric Service, as a full service residential electrical contractor, we pride ourselves on being committed to delivering not only quality workmanship and superior service, but also making sure you and your loved ones are safe in your home.
Your search for a reliable and skilled residential electrician in southeastern Pennsylvania ends right here – contact Denny's Electric today.